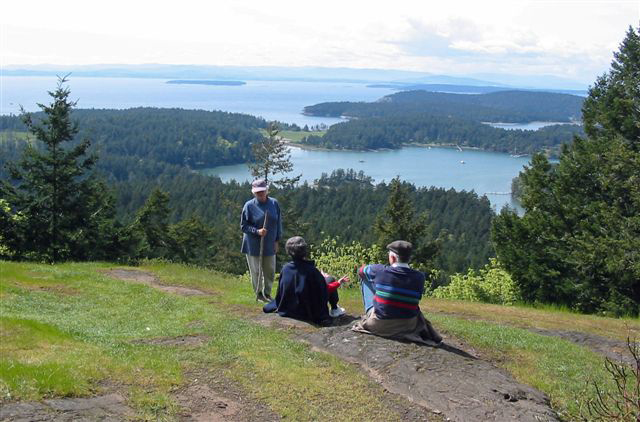 Atop Young's Hill with Garrison Bay in the background.
Watch for seals, otters, herons and eagles while enjoying a gourmet breakfast at one of the San Juan Islands few waterfront tourist accommodations. Located on San Juan Island, halfway between Seattle and Vancouver, B.C., the Longhouse B&B offers intimate lodging and a superb breakfast in a relaxing waterfront setting.
Located 9 miles Northwest of Friday Harbor on the shores of peaceful Mitchell Bay, the Longhouse B&B, run by Patty and Jerry Rasmussen, shares a site that was home to Northwest American Indians. The house itself shares styling cues from native Indian longhouse designs. The rustic great room, with its high cathedral ceiling and view of Mitchell Bay, contains unique log round flooring, an Indian basket collection, a dugout canoe and many other Indian artifacts.
The Longhouse B & B has a 5 star rating by Trip Advisor. Guest reviews of the Longhouse B & B are available at Trip Advisor. Type "Trip Advisor, Longhouse B & B" on your Internet Browser.
---
Accommodations
Longhouse B & B
The Longhouse has two large comfortable bedrooms each with a queen bed. The Green Room is a corner room and has a private bathroom directly across the hall from the room. The Blue Room is a side bedroom and its bathroom is located 35-ft down the hallway toward the front of the house. All accommodations are subject to a two day minimum rental.
| | |
| --- | --- |
| Green Bedroom | Blue Bedroom |
Bed & Breakfast Rates
The Green Room rents for $140/day for high season (May thru September) and $110/day for low season (October thru April).
The Blue Room is $132.50/day for high season (May thru September) and $105/day for low season (October thru April).
All room rates are subject to county and transient rental tax of 10.1%.
Cabin Rental
In addition to our B & B operation we also have a small, fully equipped, one bedroom rustic housekeeping cabin that rents for $150/day for high season (May thru September) and $110/day for low season (October thru April) for two persons. Rates are subject to county and transient rental tax of 10.1%. The cabin can sleep a third person on a day bed in the living room. There is an additional charge of $15/day for a party of three. The cabin is not part of our B & B operation and breakfasts are not normally served to cabin guests (see Food). Weekly rates for the cabin are 10% less for stays of 5 days or longer.
| | |
| --- | --- |
| Cabin Living Room | Cabin Kitchen Area |
The cabin, located across the lawn from the Longhouse, has a large deck and is situated atop a bank of Mitchell Bay. The cabin is ideal for guests seeking quiet and privacy.
Cancellation Policy
We accept a $100/room reservation/breakage deposit to guarantee a reservation. The deposit less $20 will be returned for cancellation 10 or more days in advance of scheduled arrival. Deposit checks should be made out to Longhouse B & B and mailed to: 2187 Mitchell Bay Rd., Friday Harbor, WA 98250.
The Longhouse B & B is an adult accommodation, please, no children or pets in the Longhouse. Children are welcome in the cabin rental.
---
Food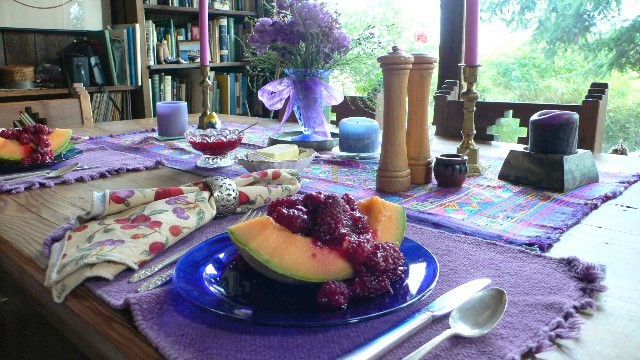 Let Patty Rasmussen, former restaurateur and caterer create a wonderful cooked breakfast for you to enjoy as you overlook the wildlife and activities on Mitchell Bay. Patty's breakfasts are an excellent start to any day of activity and exploring. We would appreciate being notified of any dietary restrictions at the time of reservation.
Cabin guests may have breakfast prepared for them, by prior arrangement, for an additional charge of $15 per meal.
---
Getting to San Juan Island
A good reference site for anyone travelling to San Juan Island by car, bus, bike or plane is www.san-juan-island.com/travel.htm. This site provides valuable advice and provides linkages to the ferry system and airlines, where you may access schedules and rates. It also provides information on car and bike rental, bus and taxi schedules, whale watch and kayak excursions, etc. that may help you get around and enjoy the Island, once you arrive.
Map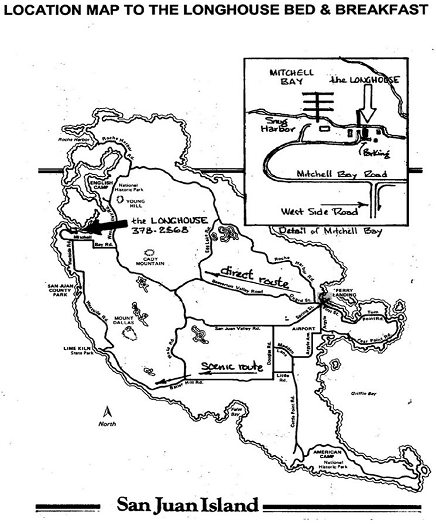 ---
Photo Gallery
| | |
| --- | --- |
| The Longhouse B & B | Front Door |
| Great Room | Great Room |
| Dining Area | Breakfast Starter |
| Bay | Back Bay |
| B&B from Cabin | Back Bay from Cabin Deck |
---
Activities and Sight Seeing
Whale Watching, Kayaking, Hiking, Biking and Sight seeing are all popular activities among visitors to the Island. Whale Watching and Kayak excursions are available from Snug Harbor Resort less than ¼ mile from the Longhouse. Shore-side Whale Watching and hiking is available at Limekiln State Park (a.k.a. Whale Watch Park) just 5-miles south of the Longhouse. Great hiking trails as well as Civil War age exhibits and pageantry commemorating the infamous Pig War are available at the English Camp Historical Park just 3-miles to the north. Two miles farther is the Westcott Bay Sculpture Park and the historic Roche Harbor Village Resort, once a port for square-riggers and home of the largest lime works west of the Mississippi.
Reproducible maps of the hiking and biking trails on San Juan Island are available on-line at: www.sanjuanislandtrails.org.